McDonnell Tax Services
2442 Devine St Columbia , Columbia, SC, USA
29205
About McDonnell Tax Services:
McDonnell Tax Services is a family owned business and was established in 2007 by husband and wife team Richard and Michelle McDonnell. We are conveniently located in Columbia, South Carolina in the Five Points area at 2442 Devine St. The majority of our clients reside in the Greater Columbia area but we also have clients as far away as Hawaii. Our motto is: "When it's all about numbers, you don't have to feel like one". We firmly believe this and strive to give each of our clients the attention they deserve. When you choose McDonnell Tax Services, you can be assured that you are valued as an individual and your business is appreciated by us, our family.
Why use McDonnell Tax Services? 
We take this seriously, it's our family business that carries our name
We feel there is a benefit in seeing the same tax professional from year to year. An inherent relationship builds and we become familiar with your needs and are able to pick up on changes in your life that could affect your tax liability such as owning rental properties, having children, buying or selling a home, having an investment loss or gain, different investments, new career path etc.
 Our Services: 
We focus on Tax Return Preparation for the individual, married couple, small business, Partnership, Corporation and non-profit. Some of our services in this area include but are not limited to a look over previous year's return(s), amending previous year's return(s), current year tax return preparation, tax planning for the current or upcoming fiscal year.  Please direct your tax questions and appointment requests to Rick McDonnell.
We also provide Bookkeeping Services to help keep your household, personal business, or company organized so that your records are always ready for you.  Imagine your tax receipts neatly organized and knowing how to budget and forecast your cash flow with ease...we can help you!  If you have questions about bookkeeping and the many ways we can assist, please email Michelle McDonnell.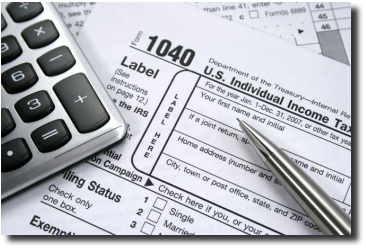 Our Rates:
Our rates are extremely competitive; first year clients are often pleasantly surprised. We base our rates on what type of forms will be required in order to complete your return. Whether that be Form 1040 (Individual), Form 1065 (Partnerships), Form 1120 (Corporations), Form 1120S (S Corporation) Form 990 (non-profits) and so on….we feel this is a fair and consistent way to levy fees for our services. Our clients must think so too, we have a high retention rate.
For Bookkeeping, there are many choices to consider.  Email Michelle McDonnell directly to discuss what option is best for your situation.
What is an Enrolled Agent?
Rick is an Enrolled Agent with the IRS. An Enrolled Agent is not an employee or representative of the IRS; he or she is an independent tax preparer who is "enrolled" to act as a taxpayer's "agent" in dealing with the Internal Revenue Service. EAs must pass a very difficult test on federal tax topics and maintain an average of 16 hours of continuing education in federal taxation each year.